Digital Signing Solutions from E-Lock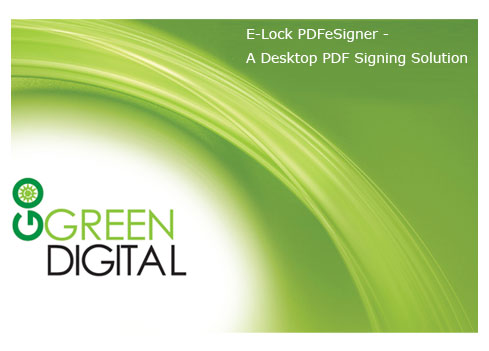 E-Lock PDFeSigner is a simple, easy-to-use desktop software for signing multiple PDF files in single click. This PDF signing solutions helps organizations to digitally sign, password protect and email large number of PDF files at once. This software comes with a feature of sending these digitally signed PDF files through email using your e-mail system. PDFeSigner saves time, costs and efforts involved in process of printing, signing and distributing files.
Digitally sign Form 16 Go Green and Paperless Fastest way to get signatures Eliminate long processing time Cut down your paper, print and Postage cost! Easy to use, secure, reliable and legally compliant
PDFeSigner is ideal for processes signing documents like HR letters, PO's, invoices, statements, reports, TDS certificates etc. that can be signed and processed in bulk. The software signs these PDF files and can mail these signed files to the recipients/ employees email ids. The signing and mailing can be done in bulk, this saves time by undertaking the entire process in just few minutes.
Common Features of E-Lock Digital Signature Solutions
Insert visible digital signature in the PDF files on a specific page or on all pages at a time
Configure the placement of digital signature in the PDF files as per requirement
Preview digital signatures in PDF files before your sign
Digitally Signs the PDF files in native Adobe format. signed PDF files can be viewed using Adobe Reader and recipient can verify the digital signature just by clicking on the signature block in the file, thus no need for using any verification utility
Associate Handwritten signature image or company Logo to the digital signature
PKCS#7 compliant signature
Digitally sign PDF files without having Adobe Acrobat Professional installed on the machine
Verification of digital signature in the PDF files using adobe reader
E-Lock PDFeSigner - A Desktop Digital Signing Solution for signing Form 16s and 16As in India
E-Lock PDFeSigner is a easy to use desktop software. It takes already generated PDF Form 16's at a time(bulk signing) as an input, digitally signs them and keeps them in the output folder. The software allows signers to associate their handwritten signature image or company logo with the digital signature.
---
Please Contact
For inquires : info@elock.com
Call us at +91 20-25560602/ 997 502 1306/ 988 109 6687